One of the reasons many people avoid dental visits is because of concerns about the cost. Dr. Tyson C. Smith and the team at Deer Creek Dental do not want financial issues to come between you and your dental care in Lewistown, Montana, and we offer options for paying for your treatments.
Insurance
Our office accepts most insurance plans. Our team will be happy to work with to maximize your benefits so that you can get the most out of your coverage. We can also help you navigate the maze of filing your insurance claims, but we do ask that contact your provider before your visit to confirm your coverage. In addition to insurance, our office also accepts:
Our Membership Plan
We understand that not everyone has access to dental insurance. If this is the case for you, we do not want you to miss getting the treatments you and your family need for your smile, which is why we offer three convenient membership plans for our patients:
Child Complete

$17 per month or $205 per year
Two cleanings and exams
One fluoride treatment
Routine X-rays
One emergency exam
Adult Complete

$22 per month or $264 per year
Two cleanings and exams
Two oral screenings
Routine X-rays
One emergency exam
Perio

$29 per month or $348 per year
Three periodontal maintenance visits
Two regular exams
Two oral screenings
Routine X-rays
One emergency exam
Your plan also includes a 15% discounts on some procedures at our office.
Why join?
Your benefits start as soon as you sign up and last for a full year
Your plan includes cleanings, exams and X-rays
Your plan gives you discounts on our other services
There are no deductibles or maximums and pre-approval is not required
Joining is easy!
Sign up at the front desk during your next visit
Go to kleer.com and enter our office code NP7F
Scan the QR code below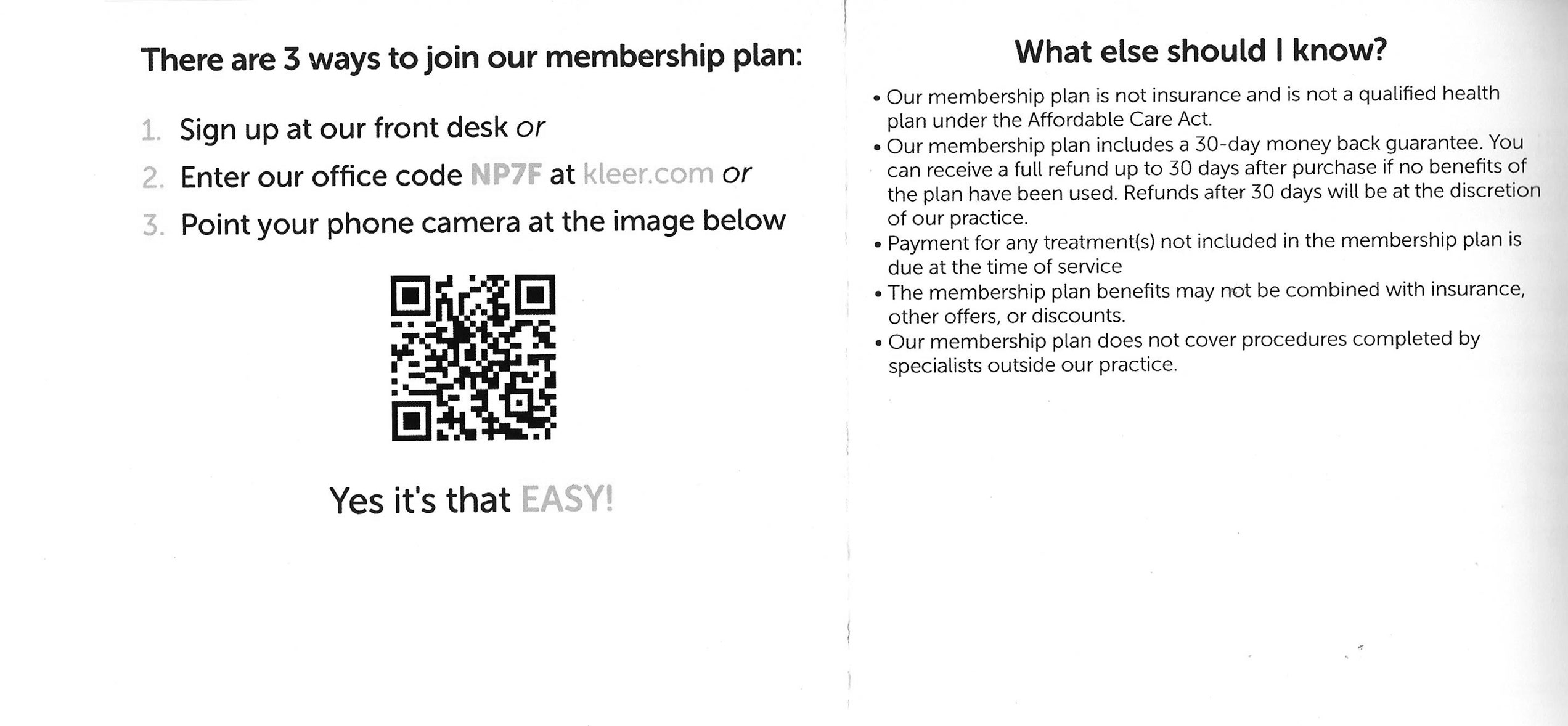 Things to know:
This is not dental insurance and does not qualify under the Affordable Care Act.
You can receive a full refund up to 30 days after you purchase your plan if you have not used any of your benefits.
If we see you for a treatment not covered by the plan, payment will be due at that time.
You cannot use your plan in connection with any other discounts, plans or dental insurance.
Work completed by a dental specialist outside of our practice is not covered.
Financing Your Care
Another option that you may want to consider if you do not have dental insurance is financing your care. Our office works with CareCredit®, a third-party lender that can provide options for paying for your care. If you would like to learn more and complete an application, you can follow the link below.
Our office will be happy to work with you to help you find the most effective payment method for you and your family, and if you have questions or would like to schedule your appointment with our dentist, call our office today at 406-535-6317.